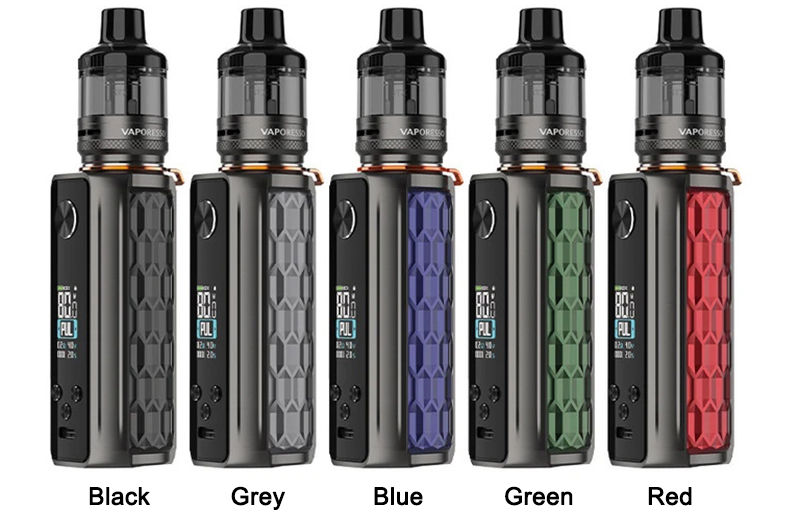 Vaporesso Target 80 Kit (5 ml, 3000 mAh)
The Vaporesso Target 80 Kit is a modern e-cigarette that runs up to 80 W and has a built-in battery. It uses the new 26mm diameter pod GTX POD 26 which holds 5ml of e-juice and is refilled via screw top cap. The air flow can be adjusted by turning the air control. The AXON Chip in the mod allows for, among other things, VW mode, which is a standard mode that you can freely adjust which Watt you want to use from 5-80 W. This machine also has a mode for Pulse Mode and F(t) Mode that optimizes the vaporization and allowing for higher flavor reproduction and denser vapor.
Vaporesso GTX Coils
This kit comes with the well-known GTX coils series where two coils are included. GTX is a series with a primary focus on Mesh coils with even vaporization and more pressure in both flavor reproduction and vapor production than traditional coils. The package includes a GTX 0.2 ohm Mesh coil and a GTX 0.3 ohm Mesh Coils.
Instructions for use:
Fitting a new coil: Check that the pod is not full before replacing your coil. Push the new coil into the pod's connection until the coil is secure.
Changing the coil: Make sure the pod is empty before you change. Pull out the used coil. Push the new coil into the pod's connection until it is stuck.
Refilling e-juice: Unscrew the top cap from the pod. Then fill with e-juice in the filling hole. Screw the top cover back on. Wait 5 minutes so that the e-juice has time to moisturize the cotton of the coil before use.
Pod assembly: Check that a coil is fully assembled in the pod and push it into the battery's pod connection. The pod needs to be pressed all the way down for optimal connection.
Start & Shutdown: Click the fire button 5 times within 2 seconds to start or shut down the mod.
Airflow adjustment: You turn the airflow control to set the desired resistance from the airflow.
Start vape: When the device interface is locked, one can start inhaling through the mouthpiece and then hold the fire button to start the vaporization process. Then release the button and exhale slowly.
Charge the battery: Insert the USB cable into the device's USB C port. After connecting, the screen shows a battery indicator and estimated charging time. The USB adapter used should be rated for a maximum of 5V/2A. The device stops charging automatically when the battery is fully charged.
Vaporesso Target 80 Kit contents:
• 1 pc Vaporesso TARGET 80 MOD
• 1 pc Vaporesso GTX PODTANK 26 (5 ml / 2 ml TPD)
• 1 pc Vaporesso GTX 0.2 Ω MESH Coil (In the package)
• 1 pc Vaporesso GTX 0.3 Ω MESH Coil (In the packaging)
• 1 pc USB C cable
• 1 pc User manual
• 1 pc Warranty card