INTELLIGENT CHARGER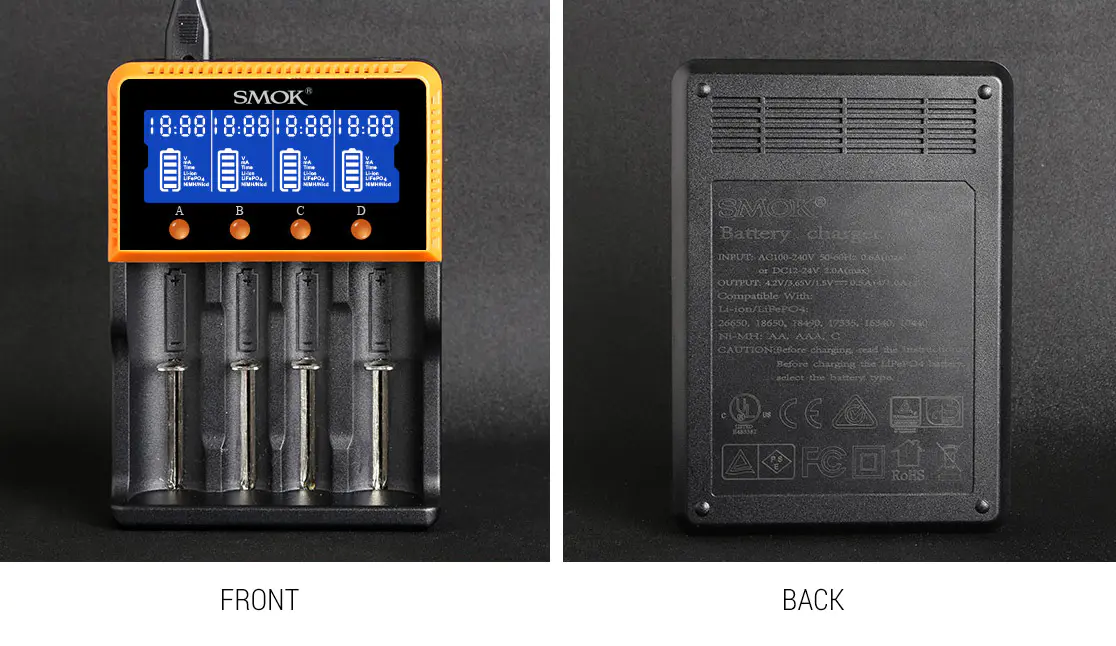 INTRODUCTION
The newest smart charger will provide you with endless power which comes from SMOK, it also has high portability. Meanwhile, the 4-slot allows high-speed charging.
Besides you can get the charging state from the clear LCD screen and enjoy easier vaping life. Just enjoy it with the smart charger!

THE KIT INCLUDES
1 x Battery Charger with adapter
1 x USB cable for charging
1 x USB cable for charging
FEATURES
Broad spectrum of Li-ion, Li-FePO4, Ni-MH, Ni-CD, rechargeable cell size.
Charger battery, select of LiFePO4 battery.
Each of the four battery slots monitors and charges independently.
Support 500mA current and 1000mA current charging.
LCD display of each cell's voltage, charging current, charging time and battery type.
It supports both AC and DC wide supply voltage, can use in the vehicle.
Advanced protection against short circuiting, over-current, overcharging and wrong polarity direction.
If the battery over-charged/battery voltage low, with low current activation function to protect the battery.
Charging over 8 hours will be automatically stopped to ensure safety.
Compliant Standards: TUV, GS, PSE, FCC, CE, C-TICK, CB, RoHS.
COMPATIBLE WITH
3.2V/3.65V LI-ION/LI-FEPO4
10440, 14500, 16340
17500, 17650, 17670
18350, 18490, 18500
18650, 26650, 22650
1.2V NI-MH/NI-CD
AA, AAA, C
INTELLIGENT LCD DISPLAY
The Intelligent LCD screen will display voltage, charging current, charging time and battery type of each battery slot.
The charger will automatically off for energy saving without operation after 30s.